Ceramica 20 Demonstration weekend
POSTPONED due to the Covid 19 lockdown
July 3rd to 5th 2020 sees the next of the SWP 'Ceramica' weekends, the most important and ambitious of the SWP regular events. This has been taking place at different venues for many years in the alternate years between the International Ceramic Festival. This year we are very pleased and excited about our demonstrators for the weekend, who will be Christy Keeney from Donegal in Ireland and Niek Hoogland from the Netherlands, both internationally well known Ceramicists.
The 'Ceramica' weekend offers members the opportunity to get together and immerse themselves in ceramics with plenty of time to talk pottery with other members, and to watch and interact with the demonstrators. There will also be opportunities to take part in 'hands on' sessions run by the demonstrators. In contrast to the ICF, the 'Ceramica' weekend has an intimate feel and offers a more in- depth experience with the two demonstrators, who work side by side, and with many opportunities for the audience to ask questions and discuss with the demonstrators. This makes the experience more interesting and the interaction between the demonstrators is often highly entertaining.
Venue
For the past few years we have used as our venue the Cyncoed site of Cardiff Metropolitan University which has proved to be excellent for our needs. It is on the outskirts of Cardiff but easily accessible from the M4 or by public transport from the centre of Cardiff. There is plenty of parking with a small parking fee.
Accommodation and Catering
The overnight accommodation is in comfortable, modern, en-suite student's rooms. These are set out in flats of 11 rooms plus a communal kitchen, which can be used for drinks and snacks. There are no utensils or crockery so please bring your own cup or mug etc. Tea, coffee and semi skimmed milk will be provided in each kitchen.
All meals and refreshments are taken in the dining room of the main building.
Meals are self service with a choice of dishes. Vegetarian, vegan and other dietary needs are catered for on request. (See application form)
Breakfast offers a choice including a full cooked breakfast. Lunch and dinner are 2 courses with several choices. Morning and afternoon refreshments are also provided. These meals are based on the full residential package: the day options will offer appropriate meals.
Although the best way to enjoy the fun and social interaction between members and with the demonstrators is to take the full residential package, we also offer non residential day tickets.
Booking
Click here to download a PDF containing further information and a booking form

POSTPONED due to the Covid 19 lockdown
Christy Keeney
Christy Keeney is well established as a Figurative Ceramic Sculptor, supplying galleries mostly in the UK and Europe with his ever evolving repertoire of ceramic figurative art. Seeing a collection of small cardboard cut outs and folded, figurative sculptures in a 1980's Picasso exhibition, opened a world of possibilities for developing his work. His forms are stretched to the point where sculpture and drawing overlap.
You can find more information about Christy here.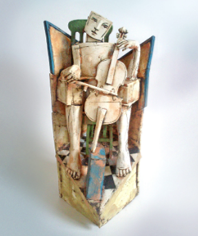 Niek Hoogland
Living in an area of the Netherlands with an old slipware tradition, Niek Hoogland trained as a slipware potter. He uses a very crude red to light brown clay directly quarried from a nearby clay-pit, once fired in a woodfired kiln to make useful pots, tiles and tile panels that are decorated using slip-painting and slip-trailing.
You can find more information about Niek here.